The history of LM2S is inseparable from the one of its founder : Alexandre Guesdon.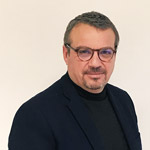 Alexandre trained himself in logistics in large international companies, where he developed complex logistics products adapted to the spare parts sector. He was already determined to imagine and develop optimised logistics solutions that allow his customers to save time and money.

Indeed, the logistic solutions that Alexandre imagined allow to connect point A to point B with an optimal efficiency in a minimal time and a mutualization of costs.
To do this, he uses :
• his expertise in the field and his knowledge of the needs;
• his corporate expertise and his knowledge of customer needs: better productivity and zero unnecessary expenses.
Over the years, this desire for optimization has become his philosophy.

Convinced and strengthened by his experience in the spare parts world, he created LM2S in 2006 to develop his own logistic vision.
For him, logistics is not only storage, transport and delivery: logistics is above all a human know-how.
In order to best support the requirements of its customers, the human being is at the heart of the LM2S system with:
competent and available teams,
reliable partners offering adapted locations.
Thus, the routing, the storage/picking operations, the reverse management are clear and track&traced. If a mishap occurs, a person will be present to identify it and react for an urgent resolution.
Today, LM2S is a major actor of the spare parts logistics sector. The company innovates continuously and develops services dedicated to its customers who are loyal and increasing.
LM2S services are 100% optimised thanks to:
• teams trained and present 24/7 : immediate reaction time;
• a network of 250 partners in France: national coverage;
• a monitoring tool: full track & Trace;
• an intelligent transportation plan with light vehicles that do not return empty (reverse management): speed and zero wasted kilometers;
• a central warehouse with an integrated hub: emergency management with late departure of our vehicles.
"We provide optimised and customised logistics. Our teams and our system are there to support our customers in their daily business and in the management of their emergencies. With us, an emergency is not really an emergency anymore: each logistic need that we take care of has its LM2S solution. As a proof, our SLA for forwarding spare parts anywhere in France is +99%. We offer logistical excellence, that's what we know how to do, that's what we want to do."

Alexandre GUESDON, President and Founder
Why LM2S ?
Strengthened by our years of experience, we know how to answer with reactivity and accuracy to your problems, to your urgencies, everywhere in France, in a record time.
Available before 8 am

Tailor-made service

Security & Quality

24/7 Customer Service

Tracking & tracing

Delivery throughout France