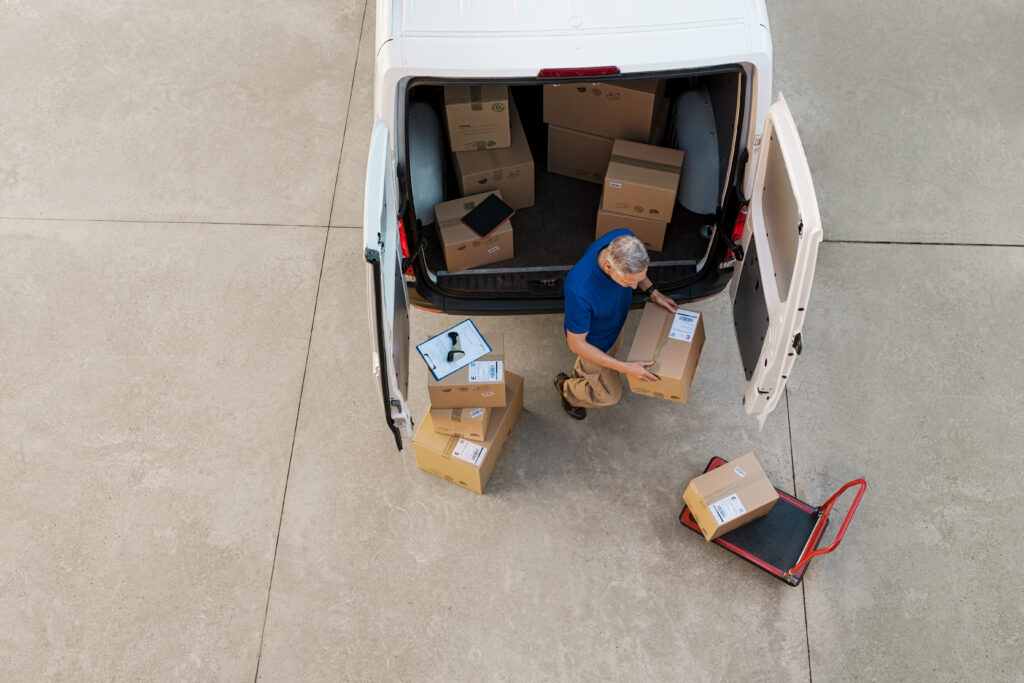 Covid-19 : LM2S delivers spare parts in crisis mode
Read the article published on 22 april 2020 on Stratégies Logistique by clicking on the link and below.
This SME specialised in last-mile logistics had to drastically reduce its transport and distribution plan while maintaining the D+1 delivery time. Its customers agreed to contribute to the effort, in particular by favouring curative over preventive spare parts.
The continuity of service, so critical at the moment, relies on the availability of human and material resources but also on spare parts. The logistics provider LM2S has made this its speciality. With its own network of 443 relay points throughout mainland France, this SME supplies some 6,000 itinerant technicians in the telecoms (Bouygues Telecom, TDF, etc.), IT/office automation (IBM, Xerox, etc.) and banking machines (Diebold, Glory, NCR, Nixdorf, etc.) sectors, among others, with spare parts and consumables. An integrated end-to-end last-mile logistics service, from the upstream transport of parts from central stocks (via the transport commissioning subsidiary LM Network), delivery on D+1 before 8am to relay points, or even H+4 and even H+2 thanks to some sixty remote stocks (FSL), to the traceability of each part transfer.
Preserving the link with the regions
These precision logistics services were disrupted by the drastic health measures and the ensuing disruption of the entire economy. "Under normal circumstances, we process almost 600 addresses every night, including our PUDO® relay points and customer agencies. The drop in volumes, from 6,000 pieces per day to 2,150 pieces, led us to reorganise our transport and distribution plans in order to preserve the economic viability of our network" explains the president and founder of LM2S, Alexandre Guesdon.
However, there is no question of stopping delivery to any point in the country: "Our customers include a good number of OIVs (operators of vital importance). As such, we are particularly obliged to maintain the link between the central stocks, located in the Paris region and in Europe, and the regions of France without shifting the distribution frequency to D+1," emphasises Alexandre Guesdon.
Business continuity plan
On 25 March, the service provider launched its business continuity plan, in consultation with its clients. On the agenda, a reduction in the transport plan and distribution points to find an optimum balance between continuity of service and economic profitability: "We have maintained the activity of 156 distribution points, including 93 more remote customer agencies, in order to ensure the most complete coverage of the territory. These are the most strategic warehouses, which provide 80% of last-mile logistics". The remaining 20% of flows are routed regionally: "We have asked our customers to travel a little further".
Solidarity efforts
Another effort of solidarity on the part of the customers is that the technicians must give priority to curative tasks, treating breakdowns, and postponing orders for preventive maintenance parts. In return for this effort, there is no question of increasing rates for the time being due to the drop in volumes: "We have to take all possible actions to avoid destabilising everyone's economic models. We're in a time of urgency, not yet in a time of accounting," justifies Alexandre Guesdon, before adding: "However, we can't rule out moving to another level of costs in the future if the situation gets worse".
The effort of solidarity between companies requested by LM2S was well perceived: " The majority of our customers thanked us for having provided them with a good visibility and ensuring an optimum level of service measured every day at +98% ". Even if the company manager does not hide the fact that he was disappointed by the pressure exerted by certain clients who expected a pre-crisis level of service…
This reduction in activity is also in line with health and safety measures for employees: "We couldn't ask employees and partners to travel as much as they normally would. A driver who delivers less stock also limits the number of encounters as required for containment". Dropping off packages in a secure airlock helps to minimise the risks.
Optimism is the rule
In this delicate situation, Alexandre Guesdon remains optimistic as an entrepreneur: "A company should be more afraid of a financial crisis than a health crisis. The current crisis is naturally dramatic. However, the spread of the virus will come to an end and all companies are anxious to be able to start up again…". Faced with a restart that could be delayed, LM2S is ready. The supply of European spare parts should not be an obstacle. The company had increased its stocks in anticipation of a possible border closure. Another example of anticipation of hazards.